KST – KROMSCHRÖDER SYSTEM TECHNOLOGY
Gas utilization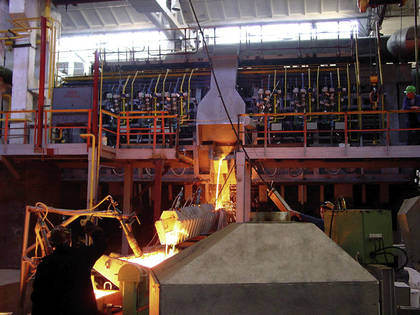 Gas utilization systems are part of gas-using equipment such as gas appliances and industrial thermoprocessing equipment. The aim of these systems is to control and regulate a heating process safely.
The gas distribution system of industrial thermoprocessing equipment generally consists of a main gas train with a downstream single or multiple burner system comprising the burner(s), air supply and burner control unit.
As a result of the sometimes massive differences between process requirements, there is also a wide variety of different solutions from a technical point of view.
Industrial thermoprocessing equipment is classified as industrial goods. The safety requirements which apply to them are based on the technical regulations issued by the country in which they are installed.
However, standard safety requirements based on corresponding EU Directives apply to all machines and systems which are placed on the market and operated within the member states of the European Union.
The requirements of all the so-called Single Market Directives within whose scope they fall as a result of their design and conditions of use apply to their initial supply (placing on the market). Each of these Directives results in the issue of a declaration of conformity and the application of the CE marking to the product after the product has been subjected to a specified conformity assessment procedure.
Gas-fired industrial furnaces are governed by the Machinery Directive.
The gas distribution and burner system is an integral part of these systems and are therefore subject to the same machine safety requirements and, depending on their design, the requirements of other relevant Directives (for example the Pressure Equipment Directive, Electromagnetic Compatibility Directive, Gas Appliances Directive, etc.).
A different procedure for partly completed machines applies to gas systems which are placed on the market separately.
The essential safety requirements of the Directives are set out in detail by harmonized standards for specific products which enables manufacturers to transpose the high level of abstraction in the Directives into practical guidelines.
The dangers and safety goals of fuel handling and combustion systems on industrial thermoprocessing equipment are described by Part 2 of the EN 746 series of standards.
If this Standard is used, compliance with the hazards and risk minimization measures described therein can be assumed to comply with the essential requirements set out in the Machinery Directive. As far as a risk assessment is concerned, these and other possible hazards must be identified and given due consideration in the design planning while the safety functions (e.g. flame control) to be provided by control and protective devices must also be defined.
The components of the protective systems must comply with the relevant product standards and/or the functional safety requirements set out in EN 62061 and EN ISO 13489.
All the safety interlocks of all the devices which are included in their design, including all sensors and actuators, must be included in the considerations.